---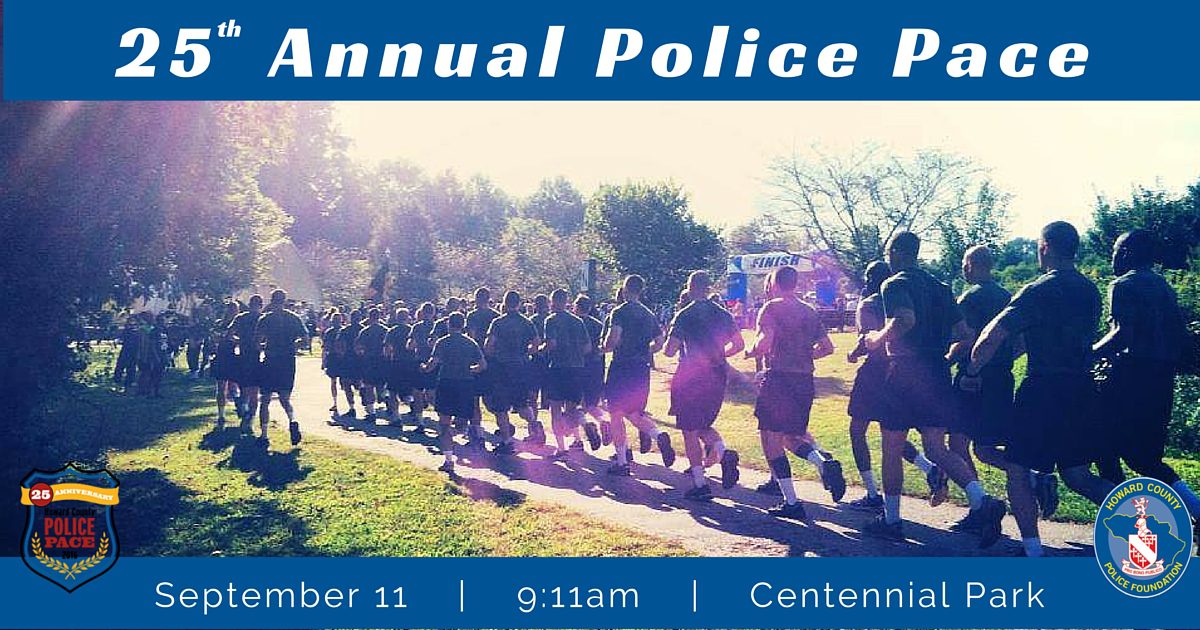 Register for the 25th Annual Howard County Police Pace
This year marks the 25th Anniversary of the Howard County Police Pace 5K race and one-mile fun walk and run at Centennial Park in Columbia. The goal of the event is to raise money for to provide scholarships and support the department with funding for special needs not met through the annual budget process.
Sponsorship opportunities are still available!
Join our men in blue on Sunday, September 11, 2016 for a special 9-11 Memorial Ceremony before the race.
8 a.m. Onsite Registration
8:30 a.m. 9-11 Memorial Ceremony at Memorial Gardens, Centennial Park
9:11 a.m. Race Starts
Awards ceremony directly following
5K Race
The 5K will head out to Rt. 108 and follow Rt. 108 east to Woodland Road. Participants then re-enter the park on Woodland Road and follow the paved foot path around the lake counter clockwise, finishing at the band shell.
Fun Run
The 1 Mile Fun Walk & Run starts five minutes after the 5K on the roadway near the park concession area and proceeds toward the boat launching area where it follows the roadway to the left toward the upper pavilion area. The course continues to the paved pathways where it turns left back toward the park concession area, crossing the boat launching area, and follows the paved foot path to the finish line near the band shell.
To register for the race click here, for more information visit policepace.com.
See you in September!